C-RISe at WIOMSA, Dar Es Salaam, Tanzania - The C-RISe team recently presented C-RISe to the Western Indian Ocean Marine Science Community at the 10th WIOMSA Scientific Symposium. (Conference Report) Our poster can be downloaded by clicking on the thumbnail below.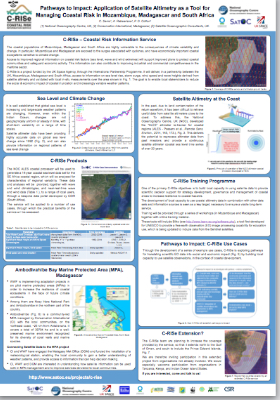 First Training Workshop: "Wind, Wave and Sea Level Information from Satellites."
26-30 October 2017. Universidade Eduardo Mondlane, Maputo, Mozambique (Workshop Report)

27 November - 1 December 2017: Direction Générale de la Météorologie, Antananarivo, Madagascar

First Issue of the C-Rise Newsletter, download here
Sign up here to receive future issues of our newsletter directly.

Regional Kick Off Workshops: 1-10 February 2017
Technical Kick Off meeting: 15th December 2016
Project start: 7th December 2016
Available for Download:
Figures showing the CRISe Area of Interest with overlaid satellite tracks

Data demonstration page showing near real time satellite wind and wave data together with present forecast conditions.

Also see the UK Space Agency International Partnership Programme web pages